Billion Acts
About
Billion Acts is a social impact organization backed by Google and 14 Nobel Peace Prize laureates, including Desmond Tutu and the Dalai Lama. Their aim is to generate one billion acts of peace worldwide.
My role
As a project lead I led two teams, each comprised of six designers, in working on two different user flows. In addition to managing the project, I worked as a UI designer on team one, independently contributing design updates to the main landing page.
User acquisition was going well - but once users joined the site they would drop off after one visit. The first team focused on increasing user activation and retention by redesigning several primary pages.
Billion Acts was also interested in automating a campaign creation process that had previously been handled through time-consuming email threads and manual page creation. The second team designed a new flow to reduce administrative burden.
An overview of the results
"Working with Rosie and the team was easy and effective. They did quality work, dramatically improving the UX of our current site and decreasing our internal workload at the same time. We'd love to work with them again; if you get a chance don't miss out."

- Brandi Brown, Billion Acts Director
Research was conducted collaboratively, with each team member testing current and new users, and generating insights together. From there the teams diverged to tackle their respective problems, updating each other along the way.
Team One: Increasing User Retention
A confusing first impression
During usability tests with new users, participants expressed confusion, asking:
"Who is Billion Acts?"
"What is an act of peace?"
We also heard from a group of super-users, educators, that they were underrepresented in the site branding and language. We theorized that the value proposition was not clear, so users did not feel compelled to return to the site.
Impactful design for social impact
Comparative research revealed that similar social impact organizations utilized a couple main conventions in their design. Both teams drew insights to:
Utilize simple, bold color palettes

Place value propositions and the primary call to action above the fold

Include images of people (potentially emphasizing the human aspect of social impact)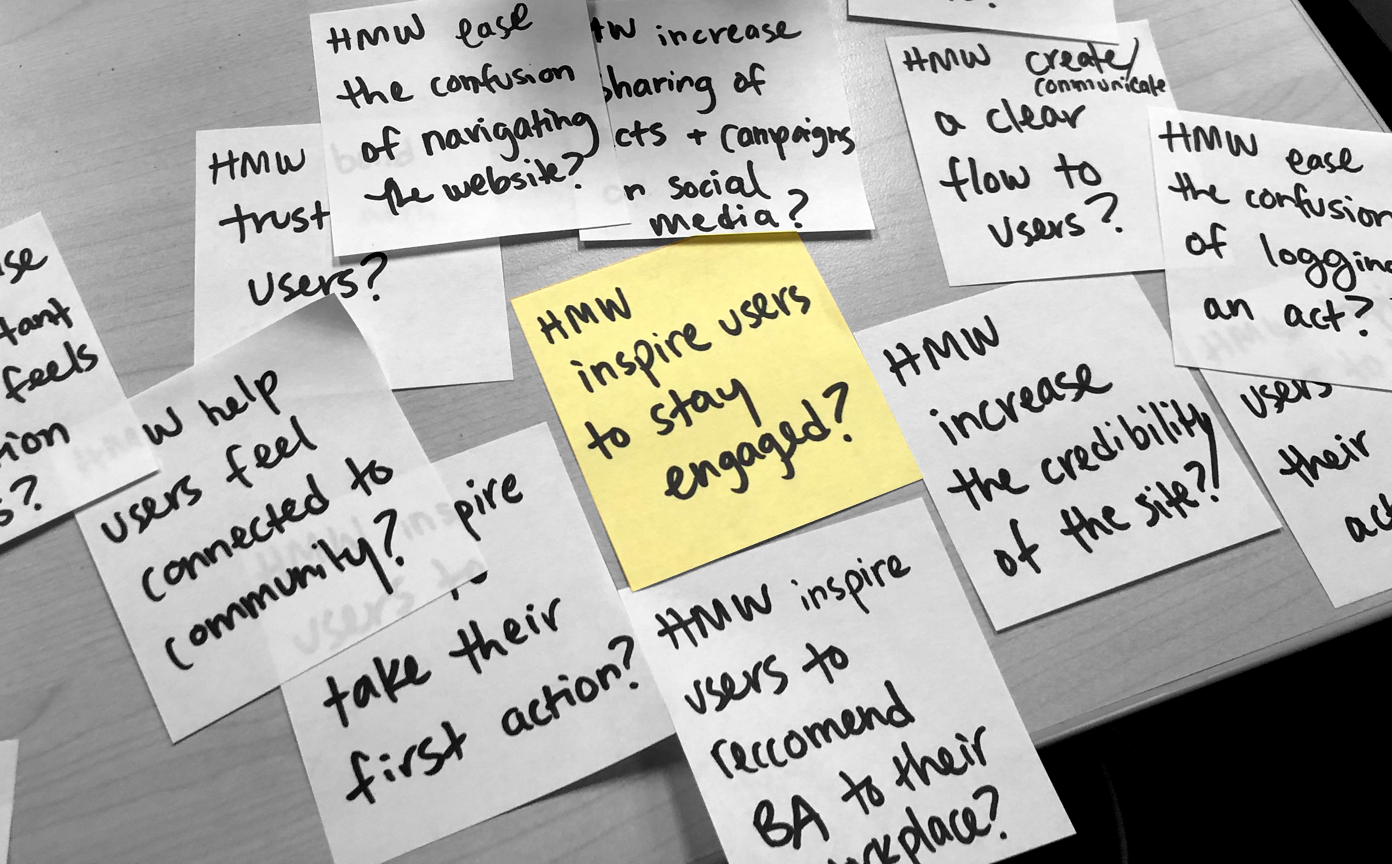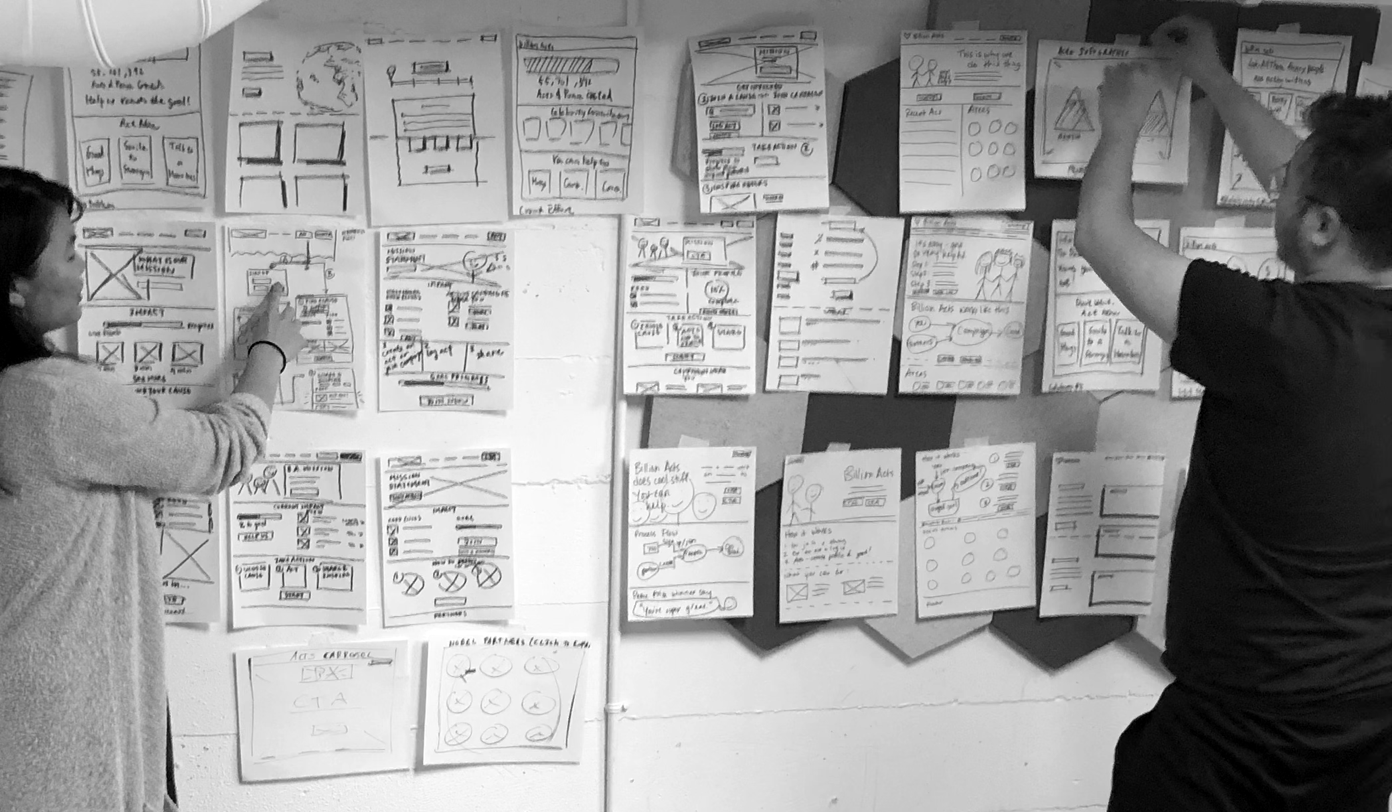 My team brainstormed potential focal points and voted on the question most aligned with our goal: How might we inspire users to stay engaged?
I led the team in generating a new, more direct, experience flow for first time users. We each mocked up several paper wireframes exploring ways to educate users on the value proposition and the primary flow: logging an act of peace.
After discussing options and ideas, we voted again to pursue the strongest design concepts. From this point forward I owned changes to the landing page, while other designers worked on other screens.
After exploring different layouts in mid-fi and rounds of critique, I developed a clickable prototype for the team to test the changes in user's first impressions. User confidence dramatically increased. Instead of hesitant or downright confused reactions to the question "What is the site about?" we heard concrete responses:
"I can volunteer and log my action."
"I can get inspired to help people in my community."
My design updates
My work on the landing page is below. To see all of the screens for Team One, click here.
Team Two: Decreasing Administrative Burden

Old manual flow
Users relied heavily on administrators at Billion Acts to guide them through the campaign creation process, which took valuable time away from other work.
New digitized flow
Users can now independently create their own campaigns, freeing up time for folks at Billion Acts to focus on other things.
Screens that support the new feature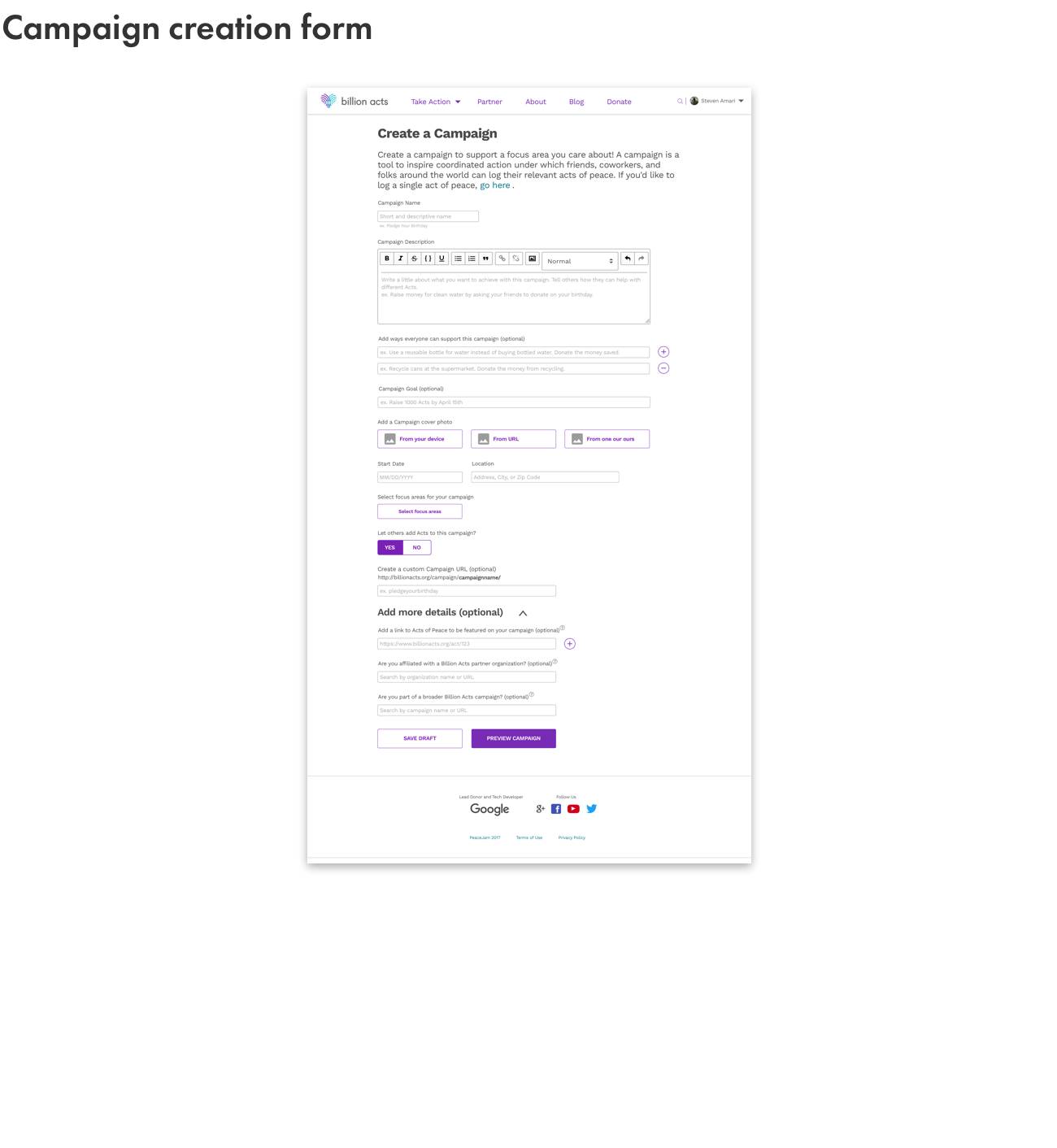 Campaign landing page
This educational page employs a clear value proposition to inspire activity. Users can take action by either adding their own act to a current campaign, or creating their own campaign.
Campaign search
This page allows a deep dive into what initiatives currently exist, inspiring individual contributors and increasing awareness of possibilities for campaign creators
Campaign creation form
This form digitizes what previously required manual labor from the administrators at Billion Acts; It enables users to set up their own campaigns with ease.
The old manual process involved creating these individual campaign page by hand. The update follows insights gained in the combined research phase. Simplifying the color reduces visual strain, the grid is improved for better informational hierarchy, and the primary CTA button is accessible above the fold.
Choose a challenging pace, but stay in communication
I used the structure of a GV sprint to kick off this project during the first week, which was a great way to jump into exploring our assumptions as fast as possible and sped the timeline. The quick pace resulted in some mismatched expectations so I developed a more regular schedule of contact with the client in order to verify our assumptions and stay on track.
Behavioral change needs multiple points of motivation and is hard to measure
Inspiring user action beyond the platform (in the form of acts of peace) is a complex problem. People want to do good things, just like they want to go to the gym, but there are lots of blocks to overcome. Billion Acts benefits considerably from partnering with external institutions, such as schools, who do a great job of mobilizing their students, volunteers, and employees. When it came to moving the needle on unaffiliated individuals it was hard to measure results. In the future I'll seek out better access to user data over time, and include these measurements in the scope of the project at the outset.
Always review inherited design systems
The design system was inherited from a different group of designers, and I assumed that they had followed best practices when it came to the typography and grid. When I zoomed in during hi-fi I realized there were some problems - which caused rework. I learned to always inspect inherited designs for flaws; a new set of eyes can inspire some easy clean up which reduces overall work.